Quick Bites
With the help of
Andre
, I have this spiffy new page... Tell me what you think of the new digs...



A radio broadcaster and the iconic voice of a generation. The loss of your voice and your commentary will not go unnoticed.

Read More
0 comments
| Posted by
PaulShanks
|

The Dow Jones plummeted this week
with the announcement that the nearly trillion-dollar stimulus was passed by Congress, and I went from buying the $1.69 Baja Chalupa at Taco Bell to the $.89 Cheesy-Bean Burrito. This adjustment serves as a fantastic way to save money, fill my stomach, and predict where I will be in 24 hours (Hint: It will not be outside playing Ultimate Frisbee). Seemingly everyone is feeling the pinch, even President Barack "Hope" Obama is telling us that things will get worse before they get better. Surprisingly, there are a few folks that are actually doing better now with an economy going belly up. On Febuary 21, 2009
The Economist
reported that:
With America tipping towards recession, Wal-Mart is doing much better than in the past couple of years when the economy was booming. Sales increased by 8.3% compared with the same period last year, to a record $106.3 billion… In a volatile economy Wal-Mart was "well positioned to succeed." The secret of Wal-Mart's meteoric rise over the past five decades has been its obsession with low prices.
The retail giant Wal-Mart is a proverbial land of opportunity, open 24-hours a day and offering a smorgasbord of cheap products. The Arkansas headquartered store is proving that your grandmother was right; being cheap pays. As small vendors are ostensibly closing up shop left and right it's good to know that some things in life don't change; Wal-Mart will still be there for me at 3:00 AM when I need more Oatmeal Cream Pies and additional darts for my Nerf Gun.
17 Easy Payments Of…
However, Wal-Mart is not the only company that is thriving in a slowing economy; historically
TV infomercials report large profit increases during recessions.
Due to the lower costs for TV time, infomercials capitalize on selling cheap products that appeal to an increasingly budget conscious audience. If you've been lucky enough to catch any late night television you might have been propositioned by
such life-altering products as the Snuggie
, a must-have blanket that comes equipped with built in sleeves. Can you imagine anything better then being under a warm blanket without losing the ability to use your hands?
I know what you are thinking: How have I lived without my very own Snuggie!?
Pucker Up!
On a
slightly
more serious note, there is an economic theory (often used to indicate recessions) that not only takes into consideration traditional pecuniary data but also holds its fingers to the pulse of the American psyche. That theory is known as 'The Lipstick Indicator.' In short, sales data over the years indicates that when the market is down, sales in bright lipstick go up. Lipstick is an inexpensive way for the women in our lives to mask their indelible sadness with gaudy lip-plaster. The
New York Times ran an interesting piece lip-enhancers last July
.

Lipsticks aren't inferior goods, economists say, but they could be small indulgences, an inexpensive treat meant to substitute for a bigger-ticket item. Or lipsticks could also be morale boosters, like Charlie Chaplin films were during the Depression. A warm shade that perfectly matches your skin tone might make you forget how far your 401(k) has tanked.
Even as I hammer out this column on my ancient 12 inch Macintosh I notice that the waitress refilling my coffee has chosen brighter than normal lipstick. I suppose that we all are doing what we can to survive this economic winter. For me, working as a Wal-Mart greeter has just been moved from my post-career career to my post-college career. Hmm, I wonder if they'd let me wear my Snuggie…
Read More
2 comments
| Posted by
PaulShanks
| Links to this post
|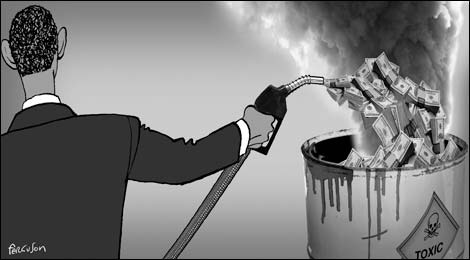 Does haste makes waste? With the effort of congress to quickly push through a "stimulus package" what is
slipping in unnoticed
? For example, did you know that in the current version of the bill there is created a whole new bureaucracy with a new position called the National Coordinator of Health Information Technology--Oh this is scary.
Read it.
-----------------------------
In the same vain of thought... Read this article from the AP
Feb 9, 6:25 PM (ET)



By CALVIN WOODWARD

WASHINGTON (AP) - At least Route 31 is a road to somewhere.

President Barack Obama had it both ways Monday when he promoted his stimulus plan in Indiana. He bragged about getting Congress to produce a package with no pork, yet boasted it will do good things for a Hoosier highway and a downtown overpass, just the kind of local projects lawmakers lard into big spending bills.

Obama's sales pitch on the enormous package he wants Congress to make law has sizzle as well as steak. He's projecting job creation numbers that may be impossible to verify and glossing over some ethical problems that bedeviled his team.

In recent years, the so-called Bridge to Nowhere in Alaska came to symbolize the worst excesses of congressional earmarks, a device that allows a member of Congress to add money for local projects in legislation, practically under the radar.

Nothing so bold, or specific, as that now-discarded bridge project is contained in the stimulus package. That's not to say the package steers clear of waste or parochial interests. Obama played to such interests Monday, speaking at one point as if he'd come to fill potholes.

A look at some of Obama's claims in Elkhart, Ind., in advance of a prime-time news conference called to make his case to the largest possible audience:

OBAMA: "I know that there are a lot of folks out there who've been saying, 'Oh, this is pork, and this is money that's going to be wasted,' and et cetera, et cetera. Understand, this bill does not have a single earmark in it, which is unprecedented for a bill of this size. ... There aren't individual pork projects that members of Congress are putting into this bill."

THE FACTS: There are no "earmarks," as they are usually defined, inserted by lawmakers in the bill. Still, some of the projects bear the prime characteristics of pork - tailored to benefit specific interests or to have thinly disguised links to local projects.

For example, the latest version contains $2 billion for a clean-coal power plant with specifications matching one in Mattoon, Ill., $10 million for urban canals, $2 billion for manufacturing advanced batteries for hybrid cars, and $255 million for a polar icebreaker and other "priority procurements" by the Coast Guard.

Obama told his Elkhart audience that Indiana will benefit from work on "roads like U.S. 31 here in Indiana that Hoosiers count on." He added: "And I know that a new overpass downtown would make a big difference for businesses and families right here in Elkhart."

U.S. 31 is a north-south highway serving South Bend, 15 miles from Elkhart in the northern part of the state.

OBAMA: "I've appointed hundreds of people, all of whom are outstanding Americans who are doing a great job. There are a couple who had problems before they came into my administration, in terms of their taxes. ... I made a mistake ... I don't want to send the signal that there are two sets of rules."

He added: "Everybody will acknowledge that we have set up the highest standard ever for lobbyists not working in the administration."

THE FACTS: Two of his appointees, former Senate Democratic leader Tom Daschle for secretary of health and human services and Nancy Killefer as his chief compliance officer, dropped out after reports they had not paid a portion of their taxes.

Obama previously acknowledged he "screwed up" in making it seem to Americans that there is one set of tax compliance rules for VIPs and another set for everyone else. Yet his choice for treasury secretary, Timothy Geithner, hung in and achieved the post despite having belatedly paid $34,000 to the IRS, an agency Geithner now oversees.

That could leave the perception that there is one set of rules for Geithner and another set for everyone else.

On lobbyists, Obama has in fact established tough new rules barring them from working for his administration. But the ban is not absolute.

William J. Lynn III, tapped to be the No. 2 official at the Defense Department, recently lobbied for military contractor Raytheon. William Corr, chosen as deputy secretary at Health and Human Services, has lobbied as an anti-tobacco advocate. And Geithner's choice for chief of staff, Mark Patterson, is an ex-lobbyist from Goldman Sachs.

OBAMA: "The plan that we've put forward will save or create 3 million to 4 million jobs over the next two years."

THE FACTS: Job creation projections are uncertain even in stable times, and some of the economists relied on by Obama in making his forecast acknowledge a great deal of uncertainty in their numbers.

Beyond that, it's unlikely the nation will ever know how many jobs are saved as a result of the stimulus. While it's clear when jobs are abolished, there's no economic gauge that tracks job preservation.

---

Associated Press writers Tom Raum and Jim Kuhnhenn contributed to this report.
When Rhetoric-Rubber Hit's the Road
Those sticky little campaign promises. President Obama is already starting to wonder if he can back up the rhetoric used in his stump speeches across the country. Is he wavering on his commitment to keep special interest out of the White House? A lobbyist as the # 2 in command of the Pentagon?
"In the campaign, Obama assailed Washington's "entire culture" in which our leaders have thrown open the doors of Congress and the White House to an army of Washington lobbyists who have turned our government into a game only they can afford to play." He vowed to "close the revolving door" and "clean up both ends of Pennsylvania Avenue" with "the most sweeping ethics reform in history."

The language, however, was always more sweeping than the specifics. He spoke of refusing campaign money from lobbyists but took it from the people who hired them. The ethics plan he outlined, and eventually imposed on his administration, did not ban all lobbyists outright but set conditions for their employment and did not
cover many who were lobbyists in everything but name."
Read more
here.
-----------------------------------------
Swim Fast::Smoke Slow
Gold medal winner, pretty boy, and all around American icon Michael Phelps was caught smoking dope last week and it looks like this celebrity is
not going to get off the hook
. Good luck with getting another Wheaties box Mr. Phelps.
-----------------------------------------
The U.S. Still Lags

the WSJ ran a very interesting
column
this week entitled Congress Approves Broadband to Nowhere. If you're frustrated with your cell phone reception, or the Wi-Fi signal on your laptop this is an excellent read.
Watch these three short videos produced by The Wall Street Journal.
Very enlightening.
Read More
2 comments
| Posted by
PaulShanks
| Links to this post
|

the SPEW
The Author
Paul Shanks is a student of Political Communications at Bryan College. Originally from Richmond, Virginia, these are the writings of a city boy coming to grips with rural Tennessee. He is interested in empowering innovation by connecting people.

Subscribe in a reader
Tweet, Tweet

Search